Considerate Constructors Approach Environment Community People Customers
Considerate Constructors
The Howard de Walden Estate is a Client Partner of the Considerate Constructors Scheme, an independent not-for-profit organisation that requires its registered developers to care about appearance, respect the community, protect the environment, secure people's safety and value the entire workforce. Together with our project partners, we fully embrace the aims of the scheme, actively promote best practice and work to minimise the impact of our developments on those who live and work in Marylebone.
Approach
Reflecting its long-term vested interest in the area, The Howard de Walden Estate's focus is on aligning shareholder prosperity with the needs and aspirations of the Marylebone community. We take pride in running a successful business that ensures the area will remain an attractive place for people to live, work and visit for many years to come. By taking our responsibility for good stewardship seriously, we aim to have a positive impact on the community as a whole.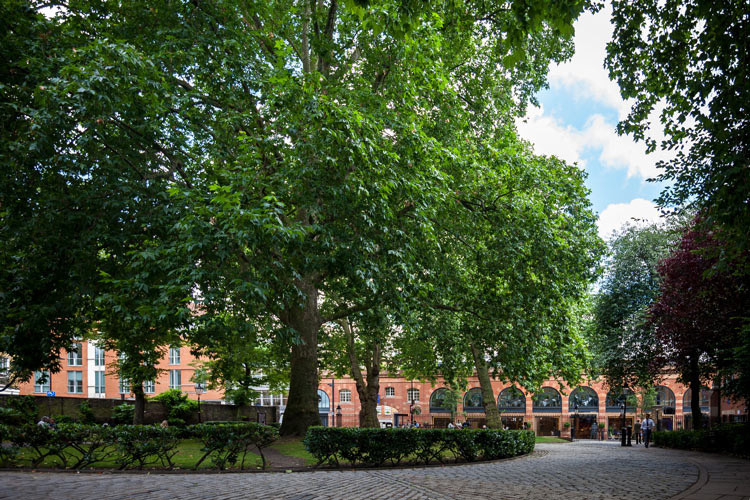 Environment
We strive to continually upgrade the environmental performance of our buildings, improve air quality and make net gains on the area's biodiversity. Through our continuous development programme and work with our valued stakeholders and partners within Wild West End and the Marylebone Low Emissions Neighbourhood (LEN), we aim to enhance and connect the area's green spaces and improve the overall environment.
Community
We have a strong understanding of Marylebone and its historic buildings, but also of the local community and the business sectors in which we operate. We offer financial support to numerous charities and local institutions, with a particular emphasis on the Marylebone area. Among the many events organised by Howard de Walden that have a positive impact upon our community are The Marylebone Summer Festival and Marylebone Christmas Lights, through which we are able to raise significant funds for nominated charities.
People
Programmes to enhance the wellbeing, training and personal development of our employees form part of our ongoing investment in workplace diversity and equality. To facilitate their connection with Marylebone and the community as a whole, we seek to ensure that our people understand the importance of being active members of the community.
Customers
Our customers are the backbone of our community. We work hard to build trusted and transparent relationships with our customers and regularly seek their feedback in order to improve our services. We organise regular forums and events that enable our customers to learn, network, meet their neighbours and engage with the wider community.