deCarbon - our sustainability strategy 2040 Managing our buildings efficiently Delivering low carbon refurbishments and redevelopments Training and educating our colleagues Working with our customers and suppliers Governance and reporting
deCarbon - our sustainability strategy 2040
Howard de Walden is a company that believes climate change represents a material threat to its business. We understand the pressing need to curtail carbon emissions and combat the advancing impact of climate change. As a testament to our commitment, we have set a science-based target and made "Achieving Net Zero Carbon" a core element of our strategic business objectives.

We have defined four commitments, which we feel are necessary to guide our agenda and strategic response to the climate change crisis over the coming period.


- Managing our Buildings Efficiently
- Delivering Low Carbon Refurbishments and Redevelopments
- Training and Educating our Colleagues
- Working with our Customers and Suppliers


The commitments are used to define our sustainability objectives and priorities. View our deCarbon Strategy here.
Managing our buildings efficiently
We must adopt energy performance improvements at pace and align our buildings with recognised industry standards as they emerge or evolve. Removing fossil fuels, maximising the use of renewable technology, and making our buildings more energy efficient is a core priority over the life of this strategy.

This also includes investing in our landlord areas, improving our approach to waste management and vehicle logistics, and enhancing our procurement practices to align with standards for responsible sourcing.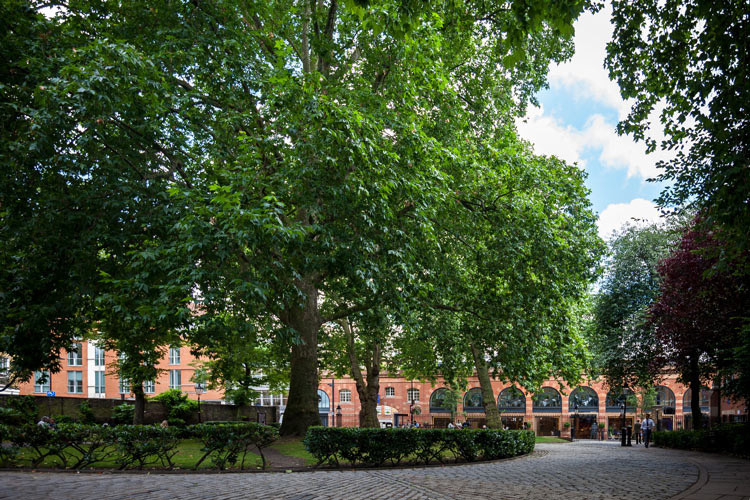 Delivering low carbon refurbishments and redevelopments
How we design and redevelop our buildings will be one of the most tangible demonstrations of our commitment to Net Zero Carbon. We have set objectives that aim to deliver net zero operational and embodied carbon projects for all our major schemes, and we commit to measuring and reducing carbon across all other refurbishment and redevelopment work.

We will take steps to improve operational energy intensity and we will adopt methods that help us accurately predict and then measure performance in use.
Training and educating our colleagues
The scale and pace of change we need to see, both within our business and across Marylebone, requires everyone at Howard de Walden to pull in the same direction.

We want every person in our business to understand the important role they play in leading change across our estate. Every role in our business has an opportunity to improve what we do, and how we do it.

Integrating our commitments across the operational and cultural fabric of the organisation will help create a foundation on which our people feel confident, and encouraged, to learn and grow.
Working with our customers and suppliers
We know how difficult it will be to achieve our ambitions without adopting responsible business practices throughout our value chain. Extreme heat, wind and rain could impact the resilience of our estate so we must future proof our assets.

This will mean taking a proactive approach to customer engagement, who themselves are reliant on occupying safe, energy efficient and well-maintained buildings. Our suppliers are expected to reduce carbon emissions in their operations and demonstrate how their approach to business supports our net zero journey.
Governance and reporting
The business has established a Sustainability Committee, with delegated authority from the Board. The Committee has responsibility for setting our strategic direction and monitoring progress against this strategy.

Performance will be reported each year through our Annual Report.